International coordination
HyMeX phases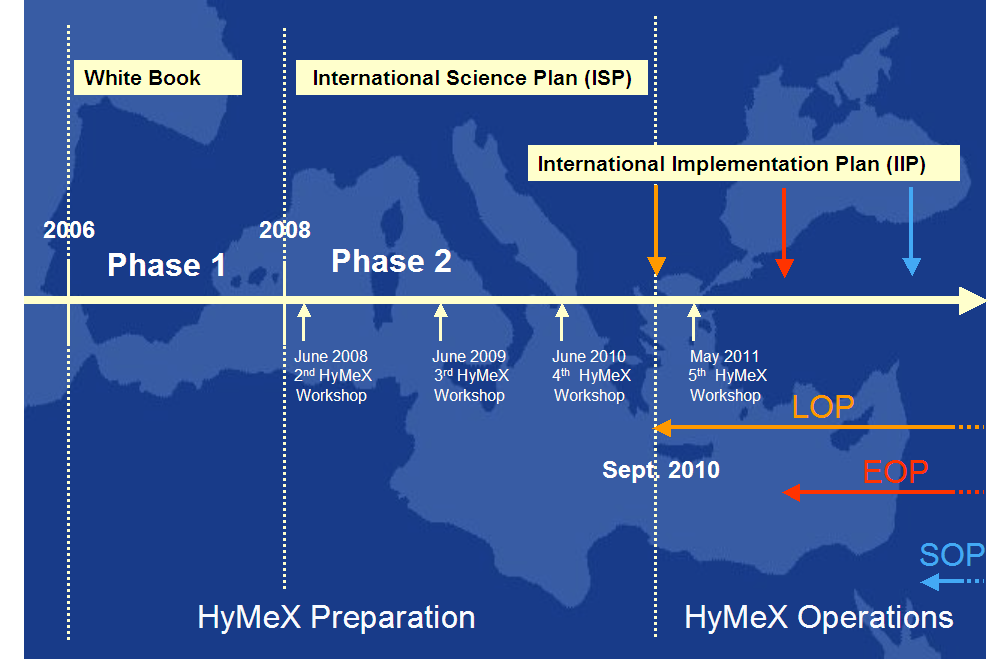 Launched by the French scientific community, the definition of HyMeX has started with the drafting of a White Book released in 2007 identifying the main scientific challenges for HyMeX regarding the Mediterranean water cycle, and making suggestions on how to address them. HyMeX has since extended to the international community, produced an International Science Plan (ISP), and is currently working at its International Implementation Plan (IIP).

Since September 2010, HyMeX has entered its operational phase with the beginning of the Long-term Observation Period (LOP).



HyMeX international coordination



International Scientific Steering Committee - ISSC


The International Scientific Steering Committee (ISSC) is responsible for the formulation of well defined and coherent scientific objectives and ensures the fulfilment of HyMeX objectives.
HyMeX ISSC composition for the 2018-2020 term:


Dr. Philippe Drobinski (Co-chair), Institut Pierre Simon Laplace, Laboratoire de Meteorologie Dynamique, Palaiseau, France
Dr. Silvio Gualdi (Co-chair), Euro-Mediterranean Center on Climate Change, Bologna, Italy
Prof. Pinhas Alpert, Tel Aviv University, Israel
Dr. Marco Borga, University of Padova, Italy
Dr. Silvio Davolio, CNR-ISAC, Bologna, Italy
Dr. Veronique Ducrocq, Centre National de Recherches Meteorologiques, Toulouse, France
Dr. Ali Harzallah, National Institute of Marine Science and Technologies, Salammbo, Tunisa
Dr. Victor Homar Santaner, Grup de Meteorologia, Universitat de les Illes Balears, Palma de Mallorca, Spain
Dr. Branka Ivancan Picek, Meteorological and Hydrological Service, Zagreb, Croatia
Dr. Gabriel Jorda, Mediterranean Institute for Advanced Studies, Universitat de les Illes Balears, Spain
Dr. Samiro Khodayar, Universidad de Valencia, Spain
Dr. Vassiliki Kotroni, National Observatory of Athens, Institute of Environmental Research and Sustainable Development, Greece
Dr. Christoph Kottmeier, IMK, Karlsruhe, Germany
Prof. Piero Lionello, Department of Science of Materials, University of Salento, Lecce, Italy
Dr. Maria Carmen Llasat, Universidad de Barcelona, Spain
Dr. Efrat Morin, Institute of Earth Sciences, the Hebrew University of Jerusalem, Israel
Dr. Pere Quintana-Segui, Observatori de l'Ebre, Roquetes, Spain
Dr. Helene Roux, Institute of Fluid Mechanics, Toulouse, France
Dr. Isabelle Taupier-Letage, Mediterranean Institute of Oceanography, Toulon, France
Dr. Yves Tramblay, Hydrosciences, Research Institute for Development, Montpellier, France
Pr. Heini Wernli, Institute for Atmospheric and Climate Science, ETH Zurich, Switzerland




Executive Committee for Implementation and Science Coordination - EC-ISC


The Executive Committee for Implementation and Science Coordination (EC-ISC) ensures consistency and communication between the cross-cutting activities lead in the WGs, TTs and TSs as well as the link with the ISSC. It is composed of WG leaders and TSs leaders for aircraft and ocean operations, major sites, and operation centers. Executive Committees at the national level coordinate HyMeX activities in participating countries.
HyMeX ECISC composition:


Véronique Ducrocq - TS8a - NW Med operations, Chair of the EC-ISC
Antonio Conesa - TS3a - Catalonia
Jorge Tamayo - TS3b - Valencia
Brice Boudevillain - TS3c - Cevennes-Vivarais
Silvio Davolio - TS3d - Liguria-Tuscany
Marco Borga - TS3e - North-Eastern Italy
Rosella Ferretti - TS3i - Central Italy
Dominique Lambert - TS4a - Corsica
Olivier Bousquet - TS4b - Montpellier supersites & TTO1f - Radars
Agusti Jansa - TS4d - Balearic islands & TTO1a - radiosounding and AMDARS
Philippe Coquerez - TTO1b - CNES balloons
Paolo Di Girolamo - TTO1e - Water vapour and temperature lidars and microwave radiometers
Pierre Testor - TT04b - Gliders and TS6a-R/V ocean operations
Katrin Schroeder - TS6a- R/V ocean operations
Cyrille Flamant - TS5- Aircraft coordination
Norbert Kalthoff - TS5b- German aircraft and TS4a- Corsica site
Evelyne Richard (WG3 leader)
Mathieu Nuret (TS7a - Real time atmospheric forecast during SOP/EOP)
Laurent Labatut (TS8a - NW Med operations and HyMeX PO)
Odile Roussot (TS8a - NW Med operations and HyMeX PO)
Philippe Drobinski




The HyMeX Project Office (PO)


The HyMeX Project Office (PO) provides support to the coordination and communication of the programme by assisting the committees:


Odile Roussot (coordination)
Laurent Labatut (webmaster)

The management of the Project Office is under the responsibility of Veronique Ducrocq as chair of the Executive Committee.
See also the section Contacts.

Organisation during Phase 1 of HyMeX (White Book drafting)


Phase 1 of HyMeX (2006-2007) has been devoted to the drafting of the White Book (WB) which identifies the main scientific questions about the Mediterranean water cycle and the still open questions.